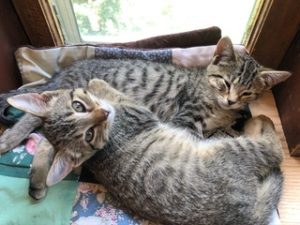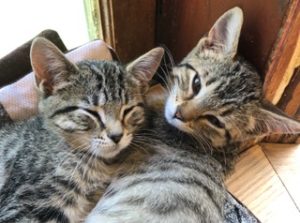 Wilma is charming and tiny—she is a warm grey tabby with a brick coloured nose. She is an affectionate talker and will let you know when she is happy with a loud purr—and when she is hungry with an "I am soooo hungry" yeowl.
Although she can play up a storm with her fellow foster kittens, she has a calm demeanor and settles quickly. She is curious about both the big shaggy dog and respectful of the two household adult cats.
She is bonded with her litter mate Betty and loves to snuggle with her but will also seek out a warm lap and affectionate hand and will purr her appreciation. They are about 10 weeks old (Aug. 29)
Betty is tiny and charming—she is a soft grey tabby with a darker coloured nose than her litter mate Wilma. She is an adventurer and was the first to quickly venture forth from the "safe room" and explore the space beyond. Like her sister Wilma, she is a talker and purrs loudly when cuddled—and will tell you when she is hungry or lonely.
She is bonded with Wilma and loves snuggling with her, using any part her sister as a pillow. Betty is curious about the large household dog and is respectful of the two adult cats.
Sunny windowsills are one of Betty's favourite nap locations in addition to any warm and welcoming lap.
Betty and Wilma are available for adoption through Grand River All Breed Rescue.  The adoption donation is $175 per cat. All of our cats are spayed or neutered, microchipped, and vaccinated as part of their adoption. If you'd like to adopt, please fill out an application. You can also reach us by email at GrandRiverRescue@hotmail.com.