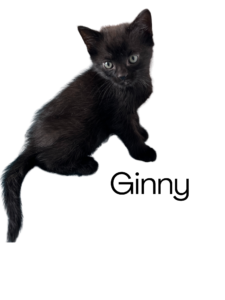 These kittens turned 8 weeks old the week of June 13th.
Ginny: This social butterfly lives up to her name. She's loved by everyone who meets her and exudes confidence. She's the only girl and rumbles and tumbles happily with her crazy brothers. She will make a happy addition to any home who wants a playmate and a best friend.
Neville: This quiet and humble sweetheart enjoys the relaxed things in life and isn't much for adventure. Occasionally, he gets up the courage to play along with his siblings but would rather chill out and watch. While he would enjoy a quieter home, we're sure he will easily come out of his shell as he gets older.
Sirius: Sirius enjoys his share of shenanigans but is sweet at heart. He's very social and enjoys roughhousing with his siblings. While he's happy to play on his own, he enjoy his share of attention! He will be happy in a busy household or as the entertainer in a quieter home.
Ron: This guy is sweet and and always dragged into adventures by the others. As he gets older, he's learning to be more independent and has become very brave, making sure life is never dull. Sweet and loyal, he always is happy to play and socialize. With his fun and loving personality, he would be a good fit for any home!
Each kitten is available for adoption through Grand River All Breed Rescue. The adoption donation is $250 per cat. All of our cats are spayed or neutered, microchipped, and vaccinated as part of their adoption. If you'd like to adopt, please fill out an application. You can also reach us by email at GrandRiverRescue@hotmail.com.