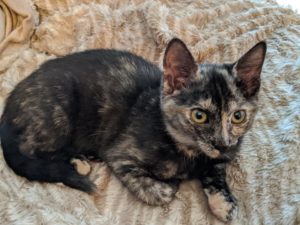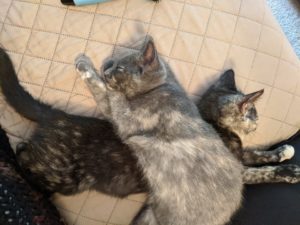 These two kittens were found on June 23rd in a construction yard when they were about 8 weeks old and rescued by some kind people.
Greycie and Gypsy have slowly adapted to humans and indoor life. They spend their awake time chasing and wrestling with each other. Their favourite toy is a crinkle ball and they will even play fetch with it sometimes.
They will let you pick them up when they are very sleepy but can be skittish and act timid if you go to pick them up. Greycie will now curl up on the sofa and Gypsy will let you pick her up and she will sleep on your chest and nuzzle your neck. They groom each other and will groom their humans sometimes too. They are very bonded to each other and need to be adopted out together to a quiet adult home where they can thrive and learn to trust their people.
Greycie and Gypsy are available for adoption through Grand River All Breed Rescue.  The adoption donation is $175 per cat. All of our cats are spayed or neutered, microchipped, and vaccinated as part of their adoption. If you'd like to adopt, please fill out an application. You can also reach us by email at GrandRiverRescue@hotmail.com.