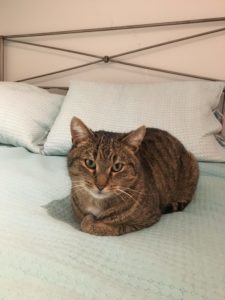 Julien is a beautiful large brown tabby who was found hanging around a farm this summer.  The person who found him assumed he was feral and he spent the summer outside with other cats on her property.  As the weather got cold, Julien started trying to be near her and wanted to be indoors.  Upon bringing him inside she found he was snuggly and had been neutered.  He then came into foster care with GRAB and has been staying with a family for the last few weeks.

Julien is approximately 4 years old and is loves to be pet almost all the time.  He is very serious and plays very little.  He is good in the house – doesn't climb on counters or in the Christmas tree and doesn't scratch furniture. He meows for pets and snuggles and comes when we call him.  He eats dry food and drinks water and is very picky about his wet food.  He is neutered and has had his first set of shots.  We recommend that he go to a quiet home where he can have lots of attention and with no young kids.  He may be ok with other pets in the house, but we have not tested that out to know for sure.  He will grab and try to bite from time to time but is mostly just a big snuggle bug who needs lots of love and affection.
Julien is available for adoption through Grand River All Breed Rescue.  The adoption donation is $175 per cat. All of our cats are spayed or neutered, microchipped, and vaccinated as part of their adoption. If you'd like to adopt, please fill out an application. You can also reach us by email at GrandRiverRescue@hotmail.com.