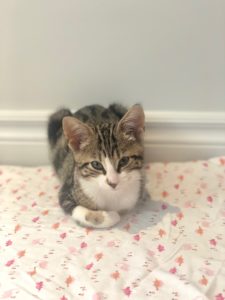 Liam and Lilah are two stunning kittens about 14 weeks of age as of Aug. 1st! With Lilah's sweet cuddles and Liam's energetic bursts these two would make the perfect pets! They must be adopted together so only apply if interested in the pair.
Liam is the full tabby with dazzling black and white whiskers. He is a sweet loving boy. He will purr and approach you whenever you come by. He is fearless and doesn't mind being picked up or carried around. He is a big fan of food and playtime! He loves just about any toy, going crazy for wands. Liam is also big on cuddles often cuddling with his sister or foster mom. He is happiest when he is around people so a home where he and his sister can spend lots of time with people is best!
Lilah is a real beauty! She is a marble tabby and white kitten with multi-coloured paws! Her soft fur and loud purrs never fail to make us awe. She came to us feral but now she is a kitten that loves to cuddle and take long naps with fluffy blankets. Lilah is just the sweetest. She is not the biggest fan of being carried or petted when in a playful mood. She might take a bit of time to warm up but that doesn't stop her from being the loving kitten she is. This sweet girl needs to patient forever home that is willing to adopt both her and her brother.
Liam and Lilah are great at eating and good with using the litter box. They are very healthy and clean! Liam and Lilah are very excited and ready to go to their forever homes.
Lilah and Liam are available for adoption through Grand River All Breed Rescue.  The adoption donation is $175 per cat. All of our cats are spayed or neutered, microchipped, and vaccinated as part of their adoption. If you'd like to adopt, please fill out an application. You can also reach us by email at GrandRiverRescue@hotmail.com.