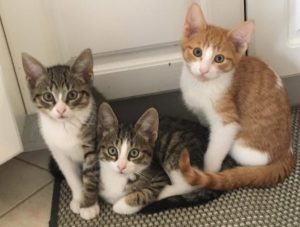 Oolong (aka Oolie)
Oolie is grey with white markings and has big eyes and ears. He has quite a personality and is very vocal. He will chat back and forth with his human foster family. He likes to perch on shoulders, to be pet and cuddled. He loves playing with his brothers and he also kneads their backs. Oolie loves his wet foot the most and gobbles it up in seconds.
Chai (aka Chai-chai)
Chai-chai is a polite kitten who likes to cozy up with his foster family and will nuzzle into our necks. He is grey with a white sleeve on his right front leg and a cute pink nose. He is playful with his brothers and likes to sit up high if he can find a box or pillow to climb on. He is curious and likes to help type when we work on our laptops.
Oolong and Chai are available for adoption through Grand River All Breed Rescue.  The adoption donation is $175 per cat. All of our cats are spayed or neutered, microchipped, and vaccinated as part of their adoption. If you'd like to adopt, please fill out an application. You can also reach us by email at GrandRiverRescue@hotmail.com.