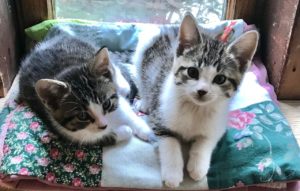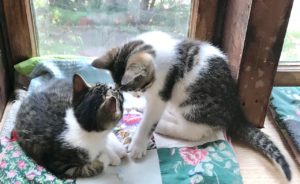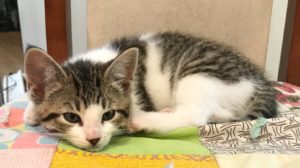 Poppy (10 weeks as of Oct 20th)
Poppy is a charming tabby with a white face and markings. She was the first to venture out and explore her new home, leading the way for her four sisters.
Play and napping are equally important to Poppy and she is either on or off. She loves playing with all of her sisters and races around at full speed.
Poppy prefers to ignore the large hairy dog and adult cats and focus on play and napping. She is bonded to her smaller sister Dot and loves snuggling with her.
Dot
Dot is the smallest of her litter. She is a sweet natured tabby with markings and a soft white smudge (dot) on her back. She was the second kitten to venture out and explore her new foster home.
She is an affectionate and talkative kitten with a nose for adventure.
Dot is not sure what to think of the large hairy dog or adult cats in her foster home, so she ignores them.
Dot loves playing with her sisters. She is bonded with her sister Poppy and loves spending time snuggling with her.
Poppy & Dot are available for adoption through Grand River All Breed Rescue.  The adoption donation is $175 per cat. All of our cats are spayed or neutered, microchipped, and vaccinated as part of their adoption. If you'd like to adopt, please fill out an application. You can also reach us by email at GrandRiverRescue@hotmail.com.