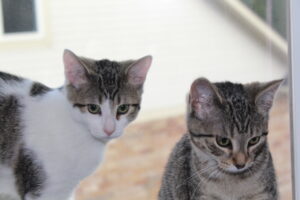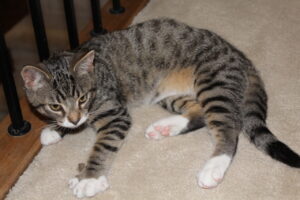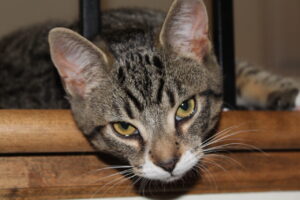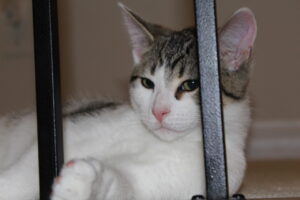 Hi, my name is Cali (solid tabby), I am very shy at first but once I get to know you, I am very affectionate. I am the only princess of the family and am bonded to my brother Joey, we are inseparable. We have a night/morning ritual and I thrive off of routine. Where there is one you will always find the other. I am a natural hunter and I like to chase feet, play with toy springs and stuffed mice. When my favourite humans come near me I greet them with my purr, I'm just happy to be near them. Like my brothers I counter surf, I'm very smart, a fast learner but I love heights and you'll often find me sleeping on the highest surface. I am being raised with two goldens, two older kittens, and my two brothers Joey and Socks.
Hi, my name is Joey (tabby & white), I am very shy and take my time getting to know new humans. When I arrived at my foster home I would always run away from attention, but now I sit still and allow them to pamper me with affection. I am bonded with my sister Cali, she is the one that showed me that touch was safe. I am spunky and love to sprint around and play, my favourite game is to chase my brother and sister up and down the hallways. I need a companion who doesn't mind my company, I will leave toys at your feet in hopes you will throw them for me. My favourite human works from home so I get a lot of attention and play. I love my scratching post and I've never clawed at the furniture.
Socks, Cali, and Joey are available for adoption through Grand River All Breed Rescue. The adoption donation is $325 per cat. All of our cats are spayed or neutered, microchipped, and vaccinated as part of their adoption. If you'd like to adopt, please fill out an application. You can also reach us by email at GrandRiverRescue@hotmail.com.