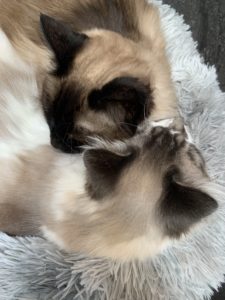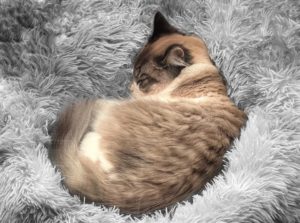 Cecilia and Snowball were surrendered to an animal control when their owner was moving. They were very stressed and are doing much better in foster care than at the shelter. They are bonded and must be adopted together. They are fully vetted and indoor cats.
Update from the foster mom:
We've made some great progress with Cecilia and Snowball. They're pretty shy, but they're MUCH more comfortable now and are interacting with people more every day. We've successfully introduced them to friends and family, and while they still prefer their safe spot, they come out to interact more every day.
Cecilia (4)and Snowball (5, male) are inseparable. They spend most of their days very close to one another (or sleeping on top of each other!) and MUST be placed together in my opinion. They're both incredibly gentle cats that love head and back scratches, belly rubs, and being brushed. You'll be rewarded with deep rumbling purrs from each of them. They also both like to play with toys, especially ones that dangle and ones that have catnip in them.
They've been hanging out quite comfortably with our 11 year old golden retriever (who is very used to cats) and they don't seem to care too much about our other cats (although they are mostly separated). Both of them seem to be ok with anyone who approaches them gently and respectfully, including younger kiddos.
They're both reliable with the litterbox, although if it gets more than 24 hours old, someone pees RIGHT outside the box to remind us it needs cleaning 🙂
In my opinion, the two of them will do best in a quieter home where they are the only animals (or with a very respectful dog). They need a safe space and lots of care and attention to win their trust, and they will take some time to settle in. A couple or a family with older kids (teens) with lots of patience and time to spend with them would be ideal.
Cecilia and Snowball have been adopted!