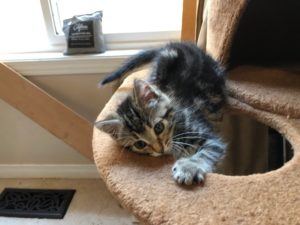 These three siblings were rescued by a kind lady who has been helping the cats at a rural property. Unfortunately, their mother was killed by a dog so they came into rescue at the age of about 4 weeks. They were dehydrated and cold so they needed medical attention as soon as they were found. All three have been fighting eye infections but these seem to be clearing up.
Thankfully they have made a full recovery and are now happy and thriving. They are now almost 8 weeks old.
Frankie (black and white female) is the leader of the bunch. She is curious and bold and not really afraid of anything. She is also the loudest when she needs attention. She was a little rough in her play when she first arrived but now plays nicely and loves to take on the bigger fosters in the home. We would like for her to be adopted with one of her siblings if possible or to a home that has a young cat she can model and play with.
Theo (white/tabby male) Theo gets along with everyone. He has some bold moments and plays well with everyone whether his siblings or the big cats in the home. He is not really a fan of being held by the humans but will snuggle up with the other animals. Just like Frankie and Cheeka we would like Theo to be adopted with one of his siblings or go to a home that has a young cat.
All three of these guys have been around a large dog and are fine if the dog is respectful.
Theo, and Frankie are available for adoption through Grand River All Breed Rescue.  The adoption donation is $200 per cat. All of our cats are spayed or neutered, microchipped, and vaccinated as part of their adoption. If you'd like to adopt, please fill out an application. You can also reach us by email at GrandRiverRescue@hotmail.com.