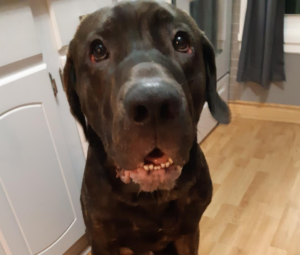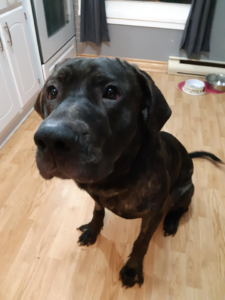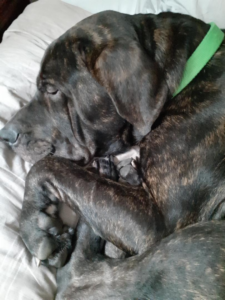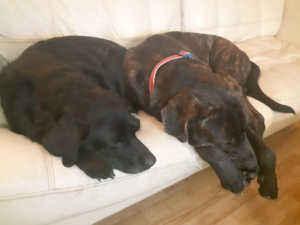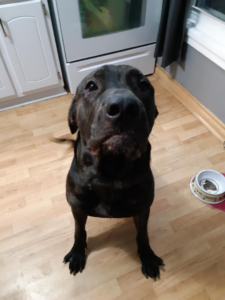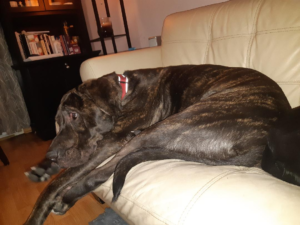 My name is Clifford and I am a 1.5-year-old (approx.) Presa Canario mix! Sadly, I've seen my fair share of homes. I've been in 7 in my short lifetime and I hope to make the next my last. I came to GRAB as an urgent owner surrender and in poor condition. I was underweight, dirty, and terrified to be changing homes in the middle of the night.
Since arriving at my foster home, I have put on some weight and am sitting at about 120lbs. I am a big boy and still young and immature, so training efforts have been focused on basic manners so I don't knock anybody over or hurt them accidentally. I am making great progress and can greet my foster family in a (mostly) calm manner at the front door when they get home – even though it is difficult because it's still one of the greatest parts of my day!
I lived with another dog in my foster home, who recently passed away, and we got along very well! I learned to take physical and verbal cues from her on gentle playing and boundaries. Although I miss her dearly, a home with another dog is not necessary – my people are more important to me. In my foster home, we also have rabbits. They don't bother me in their house (sometimes I try and sneak hay to eat), but I need supervision when they are out and about because I am naturally curious about them. I have also lived with cats in the past (as per the previous owner).
While my foster parents are at school and work, I am allowed free range of the house. I had been used to a crate at one point in my life, but they aren't my favourite and I am well behaved on my own so I don't use one anymore. At home, you can find me anywhere my people are. I love curling up on the couch with them to cuddle, or nearby in my bed while we watch TV. I help supervise the cooking and am great at picking up crumbs and food dropped on the floor. I am very food driven, so if you don't want anything eaten, please don't leave it out to tempt me. At night, I am quite comfortable to curl up at the foot of the bed to sleep.
One of my favourite things to do is play fetch. A nice sized backyard would be preferred to be able to run off-leash and play, as being outside is also a favourite of mine (especially in the snow!). I walk well on a leash (with a harness) and am rarely interested in others around me – I just want to explore – but I can be leery around some strangers, so training and gaining confidence and trust in new people is a must. I need walks of about 45-60 minutes a day to keep my mind fresh and release any extra energy. I LOVE durable rubber toys and antler chews to play with, but I have issues with resource guarding valuable toys and my food, so a safe distance and training is still needed in this area.
Even though I am great with the adults that I know in my home, I am very nervous around new people and will require an experienced and confident owner to work with me (and a positive reinforcement trainer) to overcome this. Because of my uneasiness, a quiet and controlled environment at home, with no children, is required.
Clifford is available for adoption through Grand River All Breed rescue.  The adoption donation is $400. All of our dogs are spayed or neutered, microchipped, and vaccinated as part of their adoption. If you'd like to adopt, please fill out an application. You can also reach us by email at GrandRiverRescue@hotmail.com.