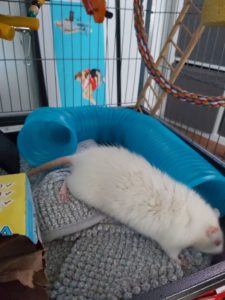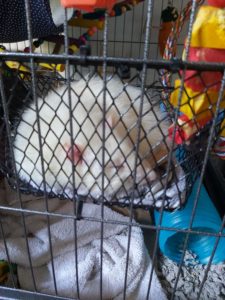 Hamilton aka Ham, aka Hammy Vanderbilt the 3rd

Hammy is a very sweet but shy, blind male rat. He is looking for some friends to cuddle with and play. He loves chewing all things wood and his favourite foods are cheerios and baby carrots. When he first arrived, he was overweight and had some skin problems. With a proper rat food, and fresh veg and water, he is slimming down, and his skin problems have completely cleared up. He is getting more comfortable being handled each day and comes to greet his foster mom every morning for treats and scratches.
Hamilton is neutered and would do best with other neutered male rats or with female rats. He will need slow introductions and patience as he settles into a new home. Hammy is friendly and interested in his foster brother, Teddy, but sadly for him, Teddy is not in the market for a permanent brother!
Hamilton is available for adoption through Grand River All Breed Rescue. The adoption donation is $30 per rat. If you'd like to adopt, please fill out an application. You can also reach us by email at GrandRiverRescue@hotmail.com.