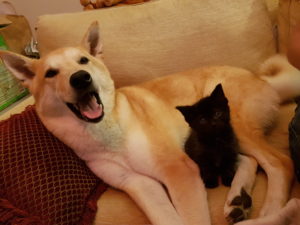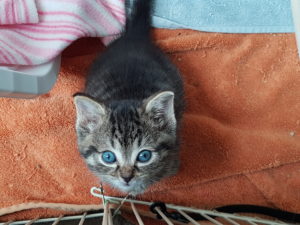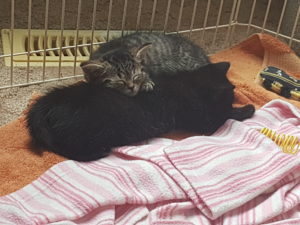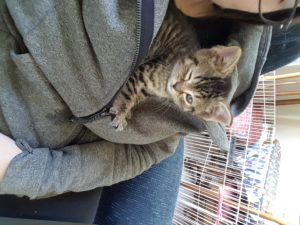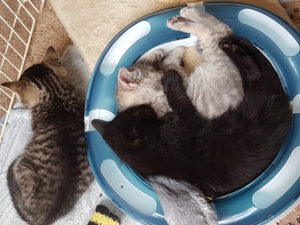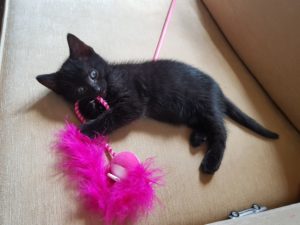 These three babies lost their mom when they were barely five weeks and a good Samaritan brought them to the rescue. They are eight weeks as of July 8th. They did a great job weaning early and they all eat tons of wet and dry food! They use the litter box (with a few little pee accidents) and are getting great at navigating the world. Their mother was feral, but these kittens are all love! All three love the house dog. The house cat is a bit shy, but the kittens are interested and young enough that they'd bond with another friendly cat easily.
Hudson is the black one. He's the biggest – by a lot! – and is a total mama's boy. He needs lots of hugs and kisses and more often than not, wants to sleep in his foster mom's arms. He's very playful and the most outgoing. To hear him purr, all you need to do is pick him up!
Newt is the soft, grey tabby. She's the fluffiest, with thick, plush fur. She's all play, all the time, and loves beating up her brothers, even though she weighs the least! Newt loves a cuddle too, but is less demanding and more likely to sleep on the chair above her foster mom's head than in her lap. Newt is gorgeous and sweet!
Hicks is a little bit behind his siblings, developmentally. He was the last to perk up his ears and the slowest to hit every milestone. He keeps up during play time, though! He still likes to pounce and chase and wrestle with his brother and sister. He sometimes sleeps apart from the others. He loves curling up by his foster mom's knee or just conking out randomly on the floor! Hicks might have a little catch up to do, but socially he's just as sweet and loving and will make a great pet.
Any pair would be happy to go together, but Newt and Hudson are most likely to play and sleep together. They would be delighted to all three go together!
Hudson, Newt, and Hicks are available for adoption through Grand River All Breed Rescue. The adoption donation is $175 per cat. All of our cats are spayed or neutered, microchipped, and vaccinated as part of their adoption. If you'd like to adopt, please fill out an application. You can also reach us by email at GrandRiverRescue@hotmail.com.