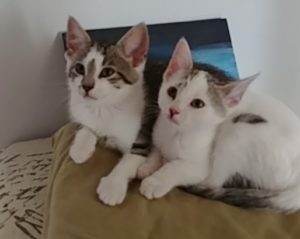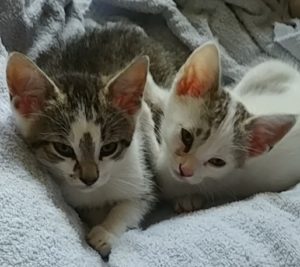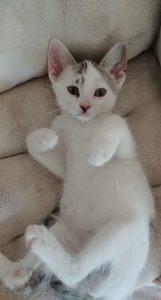 Meet Percy (grey tabby) and Piper (white with grey markings) about 8-9 weeks of age as of July 5th. These bonded brothers love to wrestle and play together.  They roll and tumble and jump. 
Percy loves to be pet and scratched when he is settling down or resting.  But is not interested in any of that when it is playtime.   Piper is more snuggly and sometimes curls up on our laps for visits.  
These guys were so timid and shy when we first met them but they have come a long way! They love belly rubs and being scratched under the chin. 
They are good at using the litter box, eating dry/wet food and drinking water. They love playing in boxes and tubes and whatever you may leave lying around. They are a loving duo who would be a great addition to a home willing to spend lots of time with them.
Percy and Piper are available for adoption through Grand River All Breed Rescue.  The adoption donation is $175 per cat. All of our cats are spayed or neutered, microchipped, and vaccinated as part of their adoption. If you'd like to adopt, please fill out an application. You can also reach us by email at GrandRiverRescue@hotmail.com.