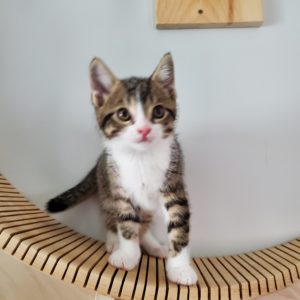 Linus is 10 weeks old as of July 5th.
Linus is a sweet, curious little boy that is incredibly gentle with people and other pets. He loves to play tag with the foster's chihuahua and gives the softest pats with his paws. He is content either by being cuddled in your arms (all the while staring deep into your eyes, guaranteed will melt your heart and soul) or hopping about furniture in the house.
Linus' siblings are also available for adoption: Teddy, Percy, and Molly.
Linus has been adopted!