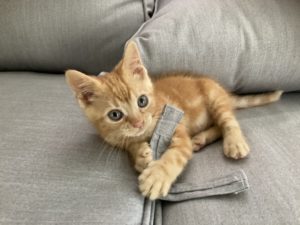 Meet Mango!
Mango was found on the centre line of a busy country road in the middle of a thunderstorm. He was wet, cold, dirty and terrified and weighed a mere 200 grams. Over the past four weeks, Mango has grown and developed into a curious, fun loving kitten who loves to cuddle. He is now about 8 weeks old ( as of July 29th) He loves to chase his ball and will playfully run and wrestle with his foster family. Mango is generally a quiet kitty and sleeps well through the night. He uses his litter box reliably and will even head to a different floor of the house to use his box at only 8 weeks old!
Looking at Mango now you would never know of his rough start. He has a beautiful orange coat with the most unique striping on his back and big curious eyes. He is affectionate and loves to cuddle with and groom his foster family snuggling up closely under their necks. Mango is the perfect combination of sweet and spunky! If you would like to give Mango a forever home please apply!
Mango is available for adoption through Grand River All Breed Rescue.  The adoption donation is $200. All of our cats are spayed or neutered, microchipped, and vaccinated as part of their adoption. If you'd like to adopt, please fill out an application. You can also reach us by email at GrandRiverRescue@hotmail.com.