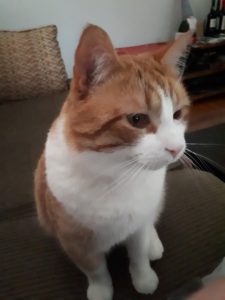 Approximately two years old, this handsome short-haired ginger tabby with a white waistcoat and belly was rescued from a pound in Oxford County. He has been named Ozzy, short for the Mohawk name Ohserase, and is a hugely affectionate and good-natured cat. He craves affection and would probably settle well in a busy home with lots of stimulation. He has not been with other pets during fostering, so it's not known how he might interact with other animals.
Ozzy is very vocal, sometimes practices 'kneading' and always follows you round the house. Morning is marked by him standing on your chest to remind you of feeding time!
Ozzy went through vaccination during fostering without problems and is booked for neutering on February 5th.
Ozzy is available for adoption through Grand River All Breed Rescue. The adoption donation is $175 per cat. All of our cats are spayed or neutered, microchipped, and vaccinated as part of their adoption. If you'd like to adopt, please fill out an application. You can also reach us by email at GrandRiverRescue@hotmail.com.