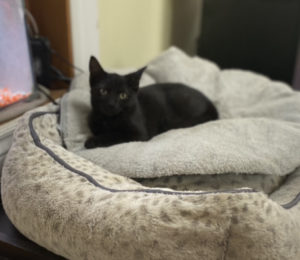 My name is Raven (9 weeks as of Sept. 13). I am such an sweet little girl! I like to curiously watch my world around me and when I'm ready to join in the play watch out! I have just begun to except that my human foster family are here to help me and on my own terms will come over for a pet and then the purring starts. I will be the perfect addition to a home when I have other animal friends and my humans are patient and let my shine come out!
Raven's siblings Otto and Oscar are also available for adoption.
Raven was adopted with Oscar!