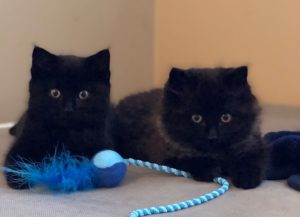 Monika: I'm almost 22 weeks old, healthy, have short black hair and I love long afternoon naps! I usually like to snuggle up beside my brother Ross. Right from the beginning I allowed my humans to scratch the top of my head. Now I love being scratched behind the ears, which is when I purr the most, but like a good back and tail scratch too! I have really funny bursts of energy a couple times a day, when I like to chase after the balls or other toys we have, but my favourite thing to do is play with feathers tied to the end of a stick with my human. Or even just a long piece of rope my human will drag along the floor! I enjoy the company of my humans and like to sniff and play with them, but I don't enjoy being held for too long. I'm ok if you pick me up for a few scratches on the head but then I liked to be put back down again please. If you continue to help me overcome this, I can be the perfect kitty for you! I eat dry food, love wet food and drink water all really well! I also have not had a single accident outside the litter box Which makes me proud because I didn't even know what the heck that thing was when my humans rescued me from living outside for the first 15 weeks of my life! If you have room for me and my brother, along with patients and knowledge of farel kittens, we will love you furever!
Ross: Hey there! I'm Ross, Monika's brother. I know we don't look anything alike, you know me, with my puffy, super soft, black/grey fur… I'm really cute right! But she is my sister and I love her to pieces. She goes out and checks things out first then I quickly join her! When my humans rescued me, I was very scared! I stayed close by my Momma until she left us at 20 weeks old. Now I'm trying really really hard to be super sweet to my humans. I love love love being scratched behind the ears, which makes me just purr like crazy, and cuddling up next to sis for our long naps! I absolutely do not like being picked up and might even hiss if you try, but I'm getting much better because my human works with me every day to try and fix this. I will need continued work with this and I will also need your patience with me. I might hiss when you come in the room or surprise me from my nap but if you hold out your hand, I will rub up against it and start purring in no time! If my sister is sitting with my human, you can bet I'm right there trying to steal all the love and I also try to steal all the yummy treats, but my human is pretty good at making sure she gets enough lol. I eat dry food, wet food and drink water. I also am proud of myself for not having any accidents outside the litter box!!! My cat mom taught us well. If you let me and my sister into your homes, we will be happy on our own, and getting to know and love you!
Ross and Monika are available for adoption through Grand River All Breed Rescue.  The adoption donation is $175 per cat. All of our cats are spayed or neutered, microchipped, and vaccinated as part of their adoption. If you'd like to adopt, please fill out an application. You can also reach us by email at GrandRiverRescue@hotmail.com.