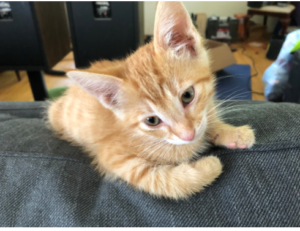 Harry is a spritely and playful ginger tabby. When he purrs, which he does a lot because he loves being cuddled as much as he likes playing, he does so with his entire body. Harry puts his full energy into playing and can be very active. He loves wrestling with Loki, his foster sister who is the only one who can match his energy. He is not too sure about the household dog yet and watches to household cats warily.
Loki is a impish black and tan tabby who can move and pounce like the wind. Although she is tiny she makes up for her size with her whirling energy as she plays and does acrobatics with her foster playmates. Loki is still a little shy with humans but is learning to appreciate a good snuggle. She enjoys napping with her foster sibling in between exploring any and all nooks and crannies to be found. Loki is particularly with her litter mate Harry and the two are well matched in both wrestling bouts and their love of naps.
Harry & Loki are available for adoption through Grand River All Breed Rescue. The adoption donation is $175 per cat. All of our cats are spayed or neutered, microchipped, and vaccinated as part of their adoption. If you'd like to adopt, please fill out an application. You can also reach us by email at GrandRiverRescue@hotmail.com.