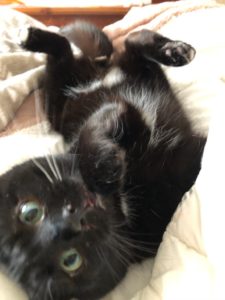 Tye is a sweet boy who is about 1.5 years old.
Tye came into our rescue back in August. He was caught on a rural property by a kind lady. He was emaciated and was suffering from a very bad lice infestation.
He had the typical ailments of a kitty that has been living outdoors with sneezing.
As the months have gone on Tye has put on some much-needed weight but he is still small in stature.
He is very loving and will come up and give head butts and kisses. He loves to snuggle right up on your neck. His latest trick is to sleep with his head on his foster mom's head.
He is very playful and has learned to get along well with the resident cat and dog. He will make a game of just about anything, including chasing the dog's tail. He gets along well with the resident cat and they have learned to play nicely together. He also doesn't mind the dog and would do well with a respectful dog. He loves the action of a busy household so would be suited to a home with children preferably older than 10 as sometimes he will bite during play.
Tye continues to have sneezing episodes and still has a runny nose and often times he still has mucous that comes out when he sneezes. He sounds like he is constantly stuffed up but he doesn't let that slow him down.
We have tried many different medications to try and resolve this for him and we have also visited an internist veterinarian. Tye would require a very expensive exploratory surgery to figure out what may be the underlying cause of the congestion and our rescue just doesn't have the funds to do this for him. The vet's best guess is feline herpes at this point which is something cats can live long normal lives with.
We are hoping to find a home for him that will accept him and give him the forever home he needs.
Tye is available for adoption through Grand River All Breed Rescue. The adoption donation is $200 per cat. All of our cats are spayed or neutered, microchipped, and vaccinated as part of their adoption. If you'd like to adopt, please fill out an application. You can also reach us by email at GrandRiverRescue@hotmail.com.