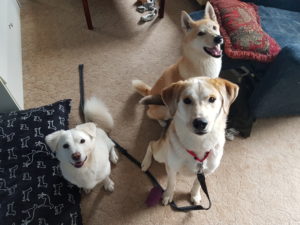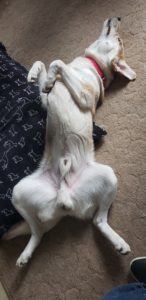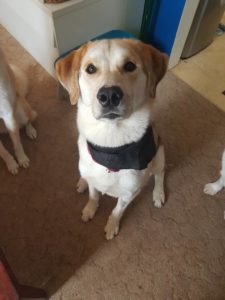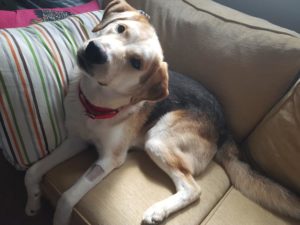 Catcher is a lovely, 2 year-old, 25kg shepard mix looking for his forever home!
Catcher was surrendered by his owners to animal control along with a female dog. His friend was adopted, but Catcher found the shelter environment very stressful and was anxious and shy with potential adopters. Now that he's in foster care, he's blooming, and he can't wait to have a forever family that will watch him continue to learn and grow.
Catcher is super smart and very eager to please. He loves cookies and praise and learns new things very quickly. He's very responsive to gentle correction. Within a day, he knew he wasnt allowed upstairs and the gate could be left open. He doesn't resource guard, but he loves kongs full of peanut butter and squeaky toys! He can be a bit shy with people at first, especially men, but once he's given some time to meet them, he's very gentle and affectionate. He likes puting his head in his foster mom's lap and having his nose rubbed. He loves TV and is endlessly curious about everything, tipping his head to the side and staring in wonder every time he hears a new noise!
Catcher is crate trained and currently sleeps and eats in his crate. Sometimes he crates himself when he's tired but can't quite settle. He's currently living with two dogs, one male and one female. He was unneutered until foster care, so he hasn't quite learned all his dog manners, but he loves his foster siblings and is learning very quickly how they like – and don't like! – to play. He would be happy to live with a dog friend, especially one who likes to rough and tumble and do zoomies in the backyard. He is large and young, so he can get overexcited, and he'd be best in families with no kids under 14.
Catcher is still learning to walk on leash, but he's improving every day. He currently walks on a gentle leader which makes him very manageable, but his new home would have to be dedicated to continuing his leash training. He's excitable around birds and bunnies and shouldn't live in a home with cats or small animals. Catcher has lots of energy outside and then is very mellow inside. He likes to sleep flat on his back with all four feet in the air!
Catcher is 100% house trained and has never had an accident indoors, even around other marking male dogs. He's well-behaved in the car, but seems to get a little car sick and can drool excessively. He's happy to be handled and doesn't mind his ears, teeth, and feet being poked and prodded. He loves being brushed!
Catcher is very special boy who instantly captured the hearts of his foster family. He's so kind and loving and trying so hard to be the best boy he can be every day. All he needs to bloom into the perfect companion is a little time and patience so he can shake off his past and start his new life!
Catcher has been adopted!