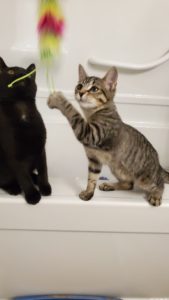 Daisy and Shadow are siblings found as strays and are approximately 16 weeks old.
Shadow is a bouncy and curious boy. At first, he will appear timid, especially when he sees something new, but will quickly warm up and realize that it is not so scary. He is an absolute purr monster. When he locks eyes with you, he purrs instantly even when he's not being petted. He eats dry kitten kibble and will gobble up his wet food every time as if it were the first meal he's ever received, then he will also try and steal his sister's share. He is not choosy and loves to play with all kinds of toys. He uses his litter box with zero issues. He can make a big mess ensuring that smelly business is 100% covered, but a litter mat will fix that problem! Shadow has a particular way of drinking and likes to test the water bowl with his paw to make sure it's up to his standards before he laps it up (while making a mess – a food tray is very helpful!). He uses the scratching post and loves to be up on high places. He likes to pounce on and wrestle with his sister. We would love for him to be adopted with his sister but may consider a home with another young cat for him to play with. Do not apply just for him if you have no other pets. He needs a friend.
Daisy is a lovely, sweet girl that has started to tell foster mom everything about her day with a loud voice. She loves to be held and cuddled and will purr forever in your arms. She is an avid escape artist and is quick to calculate her next move when she sees your hand on the door handle. She is always curious to see where you are going in the house and demands to see what is on the other side of a closed door. As she is easily distracted, she eats kibble and wet food slower than her brother. Foster mom simply brings her back to the food bowl and reminds her that there is still wet food left which she happily digs in – until she gets distracted again and so the cycle continues. Her litter box usage is excellent. She loves using the cat tree and climbing high on it. She loves all kinds of toys as well. Daisy has taken a liking to the Chihuahua, following him around and playing tag. Daisy is a skilled acrobat and her favourite moves to show off are her crazy somersaults. We would love for Daisy to be adopted with her brother Shadow but will consider a home with other friendly pets. Do not apply just for her if you have no other cats/dogs in the home. A pair is always better than one. It is less work as they can occupy each other and keep each other company when you are not home.
Daisy and Shadow are available for adoption through Grand River All Breed Rescue.  The adoption donation is $200 per cat. All of our cats are spayed or neutered, microchipped, and vaccinated as part of their adoption. If you'd like to adopt, please fill out an application. You can also reach us by email at GrandRiverRescue@hotmail.com.