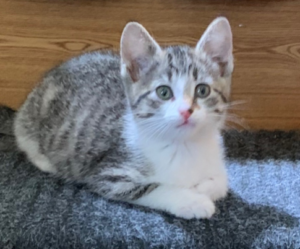 Cirrus is a sweet natured grey tabby with touches of white. She is relaxed, confident and curious. She enjoys playing with her peers and tends to seek out the human in the house. She is always the first to venture forth from the "safe" room. She is close to her sister Spotify and carefully grooms her. She is equally likely to snuggle with her fellow foster kittens as she is to seek out a cosy spot of her own. Cirrus is very curious about the large household dog and has been seen to touch noses with it. She and her sister Spotify have also been seen playing swat with the dog's tail.
Spotify is a elegant looking grey tabby with spots on her belly. She is lively, intelligent, sociable and has excellent pouncing skills. She enjoys snuggling with her humans and is swift to pounce, roll and play with her foster playmates. She is particularly close to her sister Cirrus. Although she is still a little wary she getting used to the large dog and two adult cats who live in her foster house.
Spotify & Cirrus are available for adoption through Grand River All Breed Rescue.  The adoption donation is $175 per cat. All of our cats are spayed or neutered, microchipped, and vaccinated as part of their adoption. If you'd like to adopt, please fill out an application. You can also reach us by email at GrandRiverRescue@hotmail.com.